Furnished apartment in Meguro
*Scroll down for more photos and price details.
Furnished apartment in Meguro is a pleasant living space of 1 bedroom and a kitchen. There is also a large closet and a washer.
The apartment gets bright, natural sunlight through most of the day  and it is located in a central popular area, close to Meguro station on Yamanote Line. We hope  that this place will become your home away from home. 
Furnished apartment in Meguro is located on Meguro Main Street. Shimomeguro is a vibrant neighborhood located in the Meguro district, especially well known for trendy dining spots. Its central location puts it within easy reach of Shibuya. Real Tokyo living and many small streets with hidden dining places to explore around the neighborhood.
Click on the second photo to scroll through images.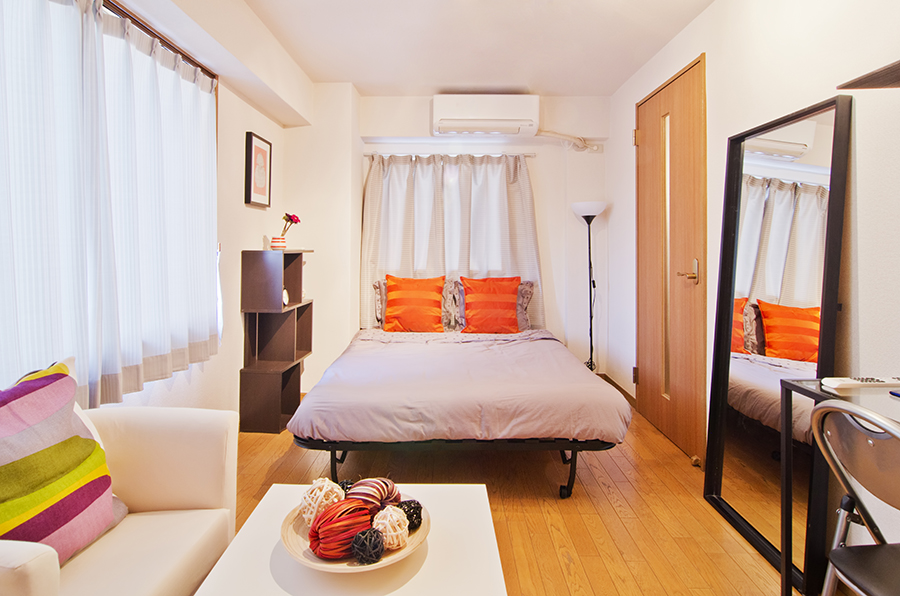 Shimomeguro, Meguro, Tokyo. Easy access from Meguro Sta. on famous Yamanote Line.
TRANSPORTATION:
Bus is running from the apartment to Meguro Sta. every 2 min. The bus in Tokyo is as good as the train in terms of schedule, you can also see online by Google maps when the next bus is arriving to your station (they all have GPS). Takes 5 min to Meguro sta. 
The bus also runs to other major areas of Tokyo, like Shibuya, Shinjuku, and Gotanda.
You can get from Meguro to Shibuya in 6 min.
  
There are two major stations around the apartment area: MEGURO station is 20 min walk and Yutenji sta. on Tokyu Toyoko line (17 min walk or 5 min bus).
Furnished apartment in Meguro