Beautiful 2LDK Furnished Apartment in Meguro
*Scroll down for more photos and price details.
Beautiful 2LDK Furnished Apartment in Meguro is a 2 bedroom and a living-dining-kitchen area apartment. It is fully and tastefully furnished and equipped with everything you might need for a comfortable life. We hope that this apartment will be your home away from home as you enjoy exploring all that Tokyo has to offer.
Beautiful 2LDK Furnished Apartment in Meguro is located very close to a big greenery park as well as a trendy shopping street of Musashi-Koyama and a very traditional Togoshi Ginza. It is also only a 15-minute train ride to Shibuya. 
In Musashi-Koyama you will find a popular shopping arcade called "Palm". This arcade starches for several blocks and includes all kinds of entertainment, such as various coffee shops, restaurants, bars, clothing shops, electronic shops, and more. 
If you are willing to walk a little more, a 20-minute walk will take you to a shopping street named Togoshi Ginza. Togoshi Ginza is the oldest and longest shopping street in Tokyo. You will find here more than 400 shops selling anything from handmade onigiri to ramen and kakigori (shaved ice). Togoshi Ginza managed to maintain a traditional Japanese spirit. So it is quite a popular attraction even among the Japanese. On the weekends it can get especially lively and crowded. 
Click on the second photo to scroll through images.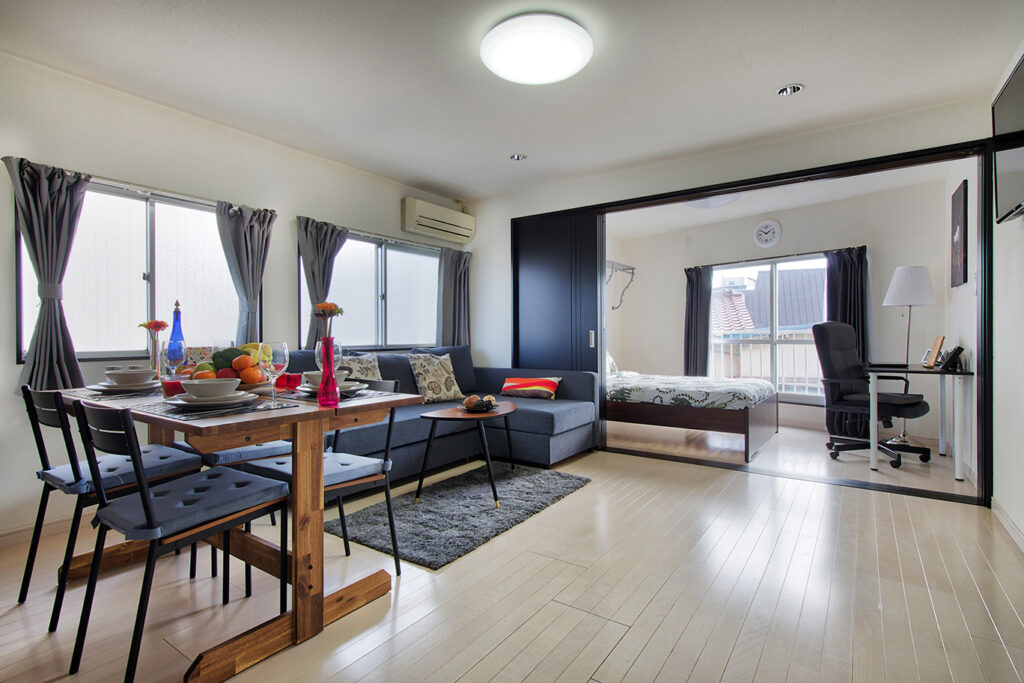 3 chome Shimomeguro, Meguro, Tokyo. Easy access from Fudomae station and Musashi-Koyama station.
MAIN TRAIN STATIONS:
Fudomae station, 8 min walk (Meguro Line).
Musashi-Koyama station, 11 min walk (Meguro Line).
Beautiful 2LDK Furnished Apartment in Meguro