1BD between Tokyo and Akihabara stations
*Scroll down for more photos and price details
1BD between Tokyo and Akihabara stations is a fully renovated apartment features one bedroom and a living room. The apartment is fully furnished and well equipped.
We hope you will be able to feel the very special Japanese vibe, but also feel at home here.
1BD between Tokyo and Akihabara stations is located in a nice area close to Akihabara, Nihonbashi, and Tokyo station. Akihabara is the most popular area in Tokyo for the anime, manga, computer games lovers. it is a col and unique place you can find only in Tokyo. 
The apartment is also close one of the oldest and historical areas of Tokyo – Nihonbashi. here you will find the first department stores of the city, the first hotels, banks, etc. But in the past few years the area became also a home to the coolest bars, restaurants, and cafes. 
Within a short walk, you can also reach on of the most important hubs of Tokyo – Tokyo station. Once again, here you will find a plenty of shops, museums, cafes. Of course, it also has an easy access to other parts of the city. As well as to the bullet trains, which will take you to any part in the country within just a few hours. 
*Click on the second photo to scroll through images.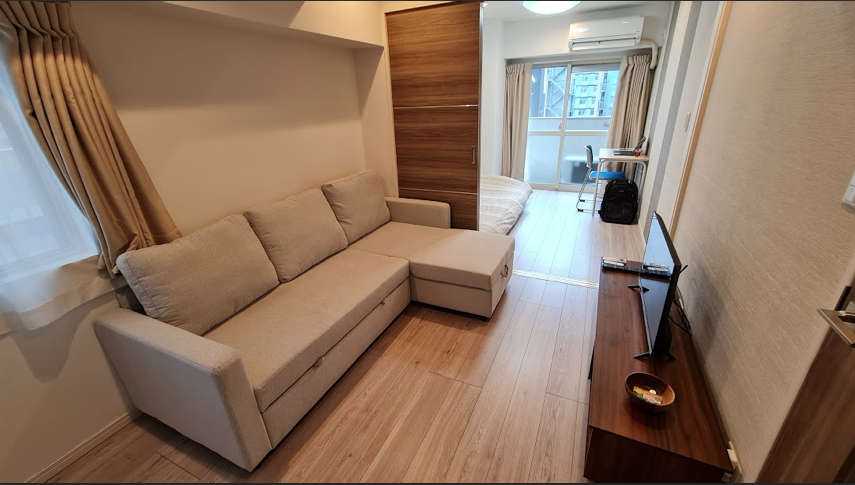 Iwamotocho, Chiyoda, Tokyo.
MAIN TRAIN STATIONS:
Kodemmacho station, 3 min. walk (Hibiya Line)
Iwamotocho station, 5 min. walk (Shinjuku Line)
Akihabara station, 7 min. walk (JR Lines, Metro Lines, Tsukuba Express)
Kanda station, 10 min. walk (JR Lines, Ginza Line)
1BD between Tokyo and Akihabara stations
No valid season or rate found for this Accommodation. Has one been added yet?